You are here:

The Recruitment Process
Getting a Yacht Job - The Recruitment Process
The yachting industry is a notoriously difficult industry to get into; the old phrase 'it's who you know, not what you know' springs to mind!
So how do you go about giving yourself the best possible chance of securing yourself that dream job aboard a yacht or superyacht? Our step-by-step guide is designed to help you understand the recruitment process - to help newbies to get their foot in the door and existing crew to find new and exciting roles within the industry.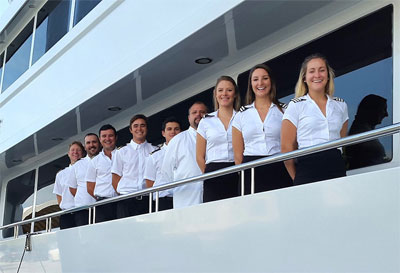 Step 1

- Research
Are you cut out for the lifestyle?
Really think about whether you would suit working on a superyacht – not everyone is cut out for this lifestyle! As luxurious as it may sound, there's a lot of hard work to be done, both physically and mentally.
You're often dealing with very wealthy and powerful owners, their families, and all their guests. The hours are typically very long and at the same time, you're sleeping in shared cabins, away from home for extended periods of time, and personal privacy becomes a rarity – and you have to be able to handle all of this whilst maintaining the highest of spirits.
What are the job roles?
You will also need to understand the different job roles. The term 'yacht crew' refers to many different roles on board a superyacht; some are more hospitality-focused, such as a steward or stewardess, while others more skill-based, such as an engineer. Whilst you may be planning to enter the industry as a deckhand and work your way up, it's important to understand the roles, duties, and responsibilities of all crew on board. See the different crew roles explained here.
Step 2

– Prepare
Make sure you have the right training
There are numerous crew training providers within the superyacht sector and a range of courses and certifications – some of which are mandatory, such as some STCW certificates, while others will simply help you obtain a more desirable set of skills.
Having additional skills (such as another language) and your interests listed on your Resume is a huge help in making you stand out from other applicants, so consider which, if any, additional courses you may want complete to help you in obtaining and succeeding in your chosen role before you actively start looking for work.
Get your Resume sorted
First things first, you must make sure that you have an up-to-date and professional Resume before you can get out there.
Step 3

– Get out there
Yachting hot spots and dock walking
There are several ways to find work in the yachting world. It is highly recommended to move to the yachting hubs and hiring ports of the world (as crew jobs can come up at any time) and networking in the local yachtie hangouts to get yourself noticed. Different yachting hotspots have their peak periods. You can then be in the right place at the right time to hand deliver your Resume to potential employers.
Dock walking is a good way of getting a job, mainly on small yachts. The usual way to obtain crew work is literally to walk the docks and marinas, visit crew agencies and even frequent pubs/cafés used by existing crew.
It is important to dress appropriately, as you are selling yourself. Make sure that you 'look the part' as first impressions count i.e. smart, wearing deck-shoes and a smart shirt (a yacht shirt if you have one).
Day work
Almost all crew begin their careers by first doing day work: single, one-off jobs which offer cash and valuable experience. Day work is casual work given by the half day or full day but can stretch into several weeks as the work requires.
It is actually the perfect way to trial different sizes and styles of yacht, to see first-hand how the crew dynamics work and to get a real feel of the work required before committing to a contract.
Of course, casual day work is highly sought after, so it is best to promote yourself as ready, willing and able for work by networking and making contacts and being in the vicinity of the yachts to be able to start work as soon as it becomes available.
Step 4

- Apply and interview
Online opportunities
Of course, you will find a huge selection of luxury yacht crew positions advertised online. Make sure you register with a specialised super yacht recruitment job-board, such as Yacrew, and upload your Resume so that you can easily apply for all suitable positions advertised there. Captains who are looking for crew use these sites to view Resumes of suitable candidates.
Attend a job fair
You should also consider attending a specialised recruitment fair. The Cruise Job Fair taking place in London every year is the largest recruitment event within the cruise sector but there are always several recruitment agencies attending who are looking specifically for quality candidates for superyachts.
The advantage of attending an event like this is that you get to meet the recruiters face-to-face, hand over and discuss your Resume, get valuable advice and immediate feedback.
Some training centres attend the job fair; they are able to give you valuable advice and help you on your way to getting the right training, skills and qualifications.
The interview process
If you are invited to an interview, then your Resume has already caught the eye of the captain or whoever is recruiting for the position! It is important that you make a good impression when you meet in person.
Whether you are a newcomer hoping to land your first contract, or you have previous experience, make sure that you are punctual, smart, prepared with copies of your Resume, licences, references, and any other documentation and brush up on your yachting terminology. Be confident, make eye contact and offer a firm handshake. Be clear about your objectives and your career path in the industry, what you will be able to offer as a crew member why you are a good fit for the job.
Of course this will not just be about assessing your skills and abilities, a large part of it will be about your personality and character and whether you will be a good 'fit' with the rest of the team on board.
Step 5

– Set Sail
Get on board
If you are successful at interview, then you will receive a formal job offer to join the yacht.
Good luck and enjoy your time at sea!
Make sure you network as much as possible during the season – as there is a lot of "it's who you know, not what you know" – and you never know when the next opportunity may present itself!