Dockwalking for Beginners
How to dockwalk and improve your chances of landing a yacht crew job
As another winter charter season approaches, it's natural that crew – both those fresh to the industry and yachting veterans are looking for new roles. Perhaps it's moving up the career ladder or changing to a yacht that has a world cruising itinerary. Whatever your reason, there are many options available today to help crew find tomorrow's opportunity. Along with word-of-mouth networking, social media (such as Facebook communities), and professional yacht crew recruitment agencies, dockwalking is one of the simplest ways to get your name out there, especially for new crew … but also one that can be the most daunting. If you're printing off your CV as you get ready to dockwalk, here is some wise advice to help you prepare.
Where to Dockwalk
Previously, you used to be able to turn up at almost any port ready to dockwalk, but the practice of dockwalking is now becoming more strictly regulated and you may struggle to be allowed into certain marinas, especially in the bigger ports in the South of France and Spain like the IYCA in Antibes and STP in Palma. In fact, unless you have a US passport it's illegal to dockwalk in Fort Lauderdale – if you plan to cross the pond this winter, Antigua is a recommended dockwalking base.
Websites such as marinetraffic.com offer live satellite tracking and show you how many yachts are in port and where; allowing you to best plan your day the night before. It's also important to look beyond the large ports to smaller marinas that may receive less dockwalking traffic. For instance, if you are in Monaco, it's a short walk across to the ports of Fontvieille and Cap d'Ail.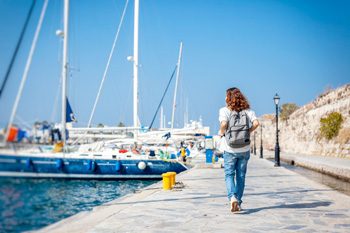 How to present yourself and your CV
"First come, first serve" is how one experienced dockwalker described it, and it's true. As hard as it may be to imagine being on the docks at 8am, that's the best time to meet crew. Avoid lunchtime breaks, and once the crew have finished for the day in the afternoon. Pay attention to how you are dressed – presentation is important in this industry. A good rule of thumb is to mimic how the crew themselves are dressed (which will also be helpful if you pick up some daywork, see below). Cover any piercings or tattoos, if possible, and it goes without saying, but smile and be polite. But wear comfortable shoes as you will cover a lot of kilometres! Along with your CV (with a photo on it), a business card can help you stand out in a crowd of dockwalking resumes. As does one simple extra touch: handing out your information in a plastic sleeve.
A time for dockwalking
Popular yachting events such as the Monaco Yacht Show and the Antigua Charter Yacht Show may seem like the perfect time to hit the quays. Held in yachting hubs, these shows offer an exciting combination of superyachts and industry figures who have flown in from around the world. But, as Laurence Lewis from yacht crew recruitment agency YPI CREW reminds us in this short video, boat shows are a time for networking, but not dockwalking. Instead, the best time to dockwalk is when the yachts are preparing for the start of the season and looking to fill those seasonal vacancies.
A day can turn into a season
You may find yourself asked if you're available for a day's work on the spot. Great! Many yachts hire dockwalkers as dayworkers and sometimes this simple spur-of-the-moment opportunity can turn into a more permanent role. It also offers valuable industry experience to those who are just starting out, so don't forget to put it on your CV. It's important to be open to all opportunities when you dockwalk!