Life on Board – the Role of the Chef
The chef onboard a luxury yacht is arguably one of the most important members of the team and plays a vital role in the daily running of the boat – feeding the stomachs of the guests and crew alike!
Although it may sound glamourous to work on a luxury yacht travelling the world, it is actually a challenging and demanding role, with the chef being responsible for delivering an exceptionally high level of cuisine from morning to night for a host of different appetites and tastes. Yacht chefs are often on their own, working in a confined space and away from their own home for months at a time.
On the other hand it is a fulfilling and rewarding career, with the opportunity to travel to many far-flung locations across the globe. The ideal yacht chef candidate will be organised, focused, able to multi-task and work under pressure to deliver food of the highest standards.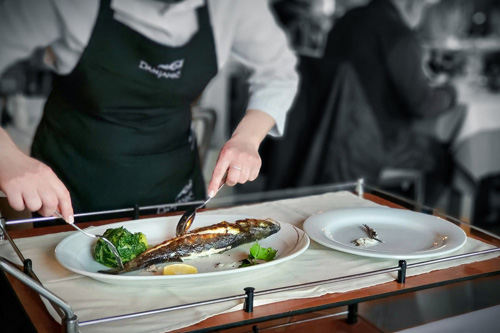 The Role of a Yacht Chef
Depending on the size of the yacht, most chefs will work alone. The larger luxury yachts will also accommodate a sous chef.
The main challenge for any yacht chef is to create the most sensational menu for the guests. Yacht owners and charter clients are accustomed to dining in some of the world's finest and therefore they have high expectations and demand the best!
Chefs will work closely with the owner to design a menu which impresses and also caters to any particular needs or dietary requirements of the guests.
If there is only in chef on board then it is his/her responsibility to provide the crew with appetising meals to sustain them through a long and tiring day of working on the yacht. If a sous chef is on board then this responsibility usually falls to him or her.
Don't make the mistake of forgetting to feed the crew well! They are your onboard family and are also working incredibly long hours and need a good feed at the end of each day. Meals for crew members tend to be of a more simple, nutritious, home-cooked style than the haute cuisine that the guests will enjoy.
Well fed crew = happy crew!
Experience and Attributes
Anyone wanting to find work on a yacht as a chef will of course need lots of relevant experience working in the food service industry sector, as well the appropriate qualifications and any relevant training courses such as practical cookery, food and personal hygiene, food storage, stock control and catering health and safety. Experience in the highest rated restaurants and hotels, for example, a Michelin-starred restaurant, would give you an added advantage.
Having said that, yacht chefs must be great all-rounders who can cook (and clean up) everything from a toastie or an omelette right through to the highest cuisine dishes. They need to be extremely organised, manage the food budget and deal with the galley accounts, have a broad range of culinary skills and techniques and ideally have experience working on yachts catering to different nationalities.
To excel as a yacht chef, applicants must have:
Qualifications
Experience
Talent and flair
Imagination
A good work ethic
The ability to multi-task
A proactive attitude
Great organisation skills
Salary
Salaries for a yacht chef will vary according to a number of factors including the chef's experience, the size of the yacht and whether it is a private or charter yacht. Head chefs' salaries can range from €3,500 to €10,000 per month, while sous chefs' salaries can range from €3,000 to €6,000 per month.
Find a Yacht Chef Job
If this sounds like the right role for you and you would like to find a job as a yacht chef, your first port of call should be to visit yaCrew to view all the current chef vacancies for Head Chefs, Sous Chefs, Sole Chefs and Cooks/Crew Chefs.