Top 5 Christmas Yacht Charter Destinations
Christmas is a popular time to charter a yacht to the world's most exotic destinations. As we enter the festive season, the top 5 Christmas charter destinations are:
British Virgin Islands
A secluded Caribbean paradise and an idyllic yachting destination, the British Virgin Islands are perfect for an adventurous winter break. Across more than 50 islands, the archipelago offers visitors the chance to explore the numerous white sand beaches that overlook the azure waters.
Antigua & Barbuda
Famous for having a different breath-taking beach for each day of the year, these Islands offer a luxury experience like no other. With top-level marina facilities and activities galore, this is a prime yachting destination and considered to be the playground of the yachting elite.
The Bahamas
The Bahamas is a destination that has long served at the heart of the superyacht community, and has consistently delivered as one of the most iconic charter destinations in the world.
Adriatic Sea
The Adriatic Sea is fast becoming a thriving superyacht destination and is hoping to become a destination for year-round escapes. and its ambition is to offer all year round escapes. The shores of Croatia, Montenegro and Venice offer something different to the more heavily visited Western Mediterranean routes, with undisturbed waters and crystal beaches.
South Pacific & Australia
The South Pacific and Australia offer a more alternative winter chartering experience. South Pacific islands such as Tonga, Fiji and French Polynesia offer culturally rich experiences and diverse landscapes.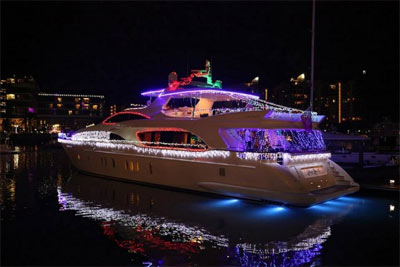 Working away from home at Christmas
For those working on a super yacht and being away from home at Christmas, it may feel strange to experience Christmas in a hot climate, or seeing an inflatable snowman bobbing away on a Caribbean beach!
The festive period and New Year are very popular times for guests and owners to use their yachts, so it is often a very busy time on board for the crew - although it can of course be the hardest time of year to work away from loved ones at home.
The reality of Christmas on a super yacht is not all bad though, and most yacht owners or management will ensure that the crew are well looked after and will provide some sort of celebration for them, perhaps a week or two earlier. Many will enjoy:
a delicious roast dinner with all the trimmings, eaten outside on the deck around the main guest table, with a magnificent ocean view
laughter, chatter and the sounds of Christmas classics playing
flowing alcohol
thoughtful gifts given out to all the crew from the yacht
an extra month of salary as a Christmas bonus
a trip to a local bar for Christmas cocktails and drinking and dancing into the early hours
Getting it out the way early means that the crew will be completely ready for Christmas itself and have all the preparation done in time for the guests' arrival.
Getting organised for guests is a busy time (but also a great time as everyone pulls together) and generally starts a couple of weeks in advance. Duties may include:
washing and drying the entire yacht
cleaning all stainless steel and masts
polishing all the windows and name plates
loading crew and guest supplies for the coming weeks
For deck crew working on board, Christmas Day will come and go much like any other normal day – working 12-16 hours, always welcoming guests with a cheerful smile and eager to assist, but with perhaps an underlying or unspoken loneliness thinking about their own loved ones.
We wish anyone working away from home this Christmas a very merry Christmas and a happy new year!