The solution to the Yachting Industry's hours of rest problem!
A survey of crew on close to 250 superyachts found that 61% of respondents "do not record accurate hours of work and rest."
That same survey, undertaken by Katarina Poljak in 2016, found that on charter yachts, crew exhaustion is their biggest problem onboard.
Yet for such a well-known problem, there has been surprisingly little done to address and rectify the issue.
At GoSea, we believe the solution lies in utilising more advanced technology to allow for easier yet more accurate collection of data. Combined with a better representation of real-time compliance, thus allowing captains and crew to gain more insight into their current working conditions and make better decisions as a result.
That's why we've created workrest & why crew are logging over 10,000 hours each day via our software.
Workrest is the easiest way to log and monitor your hours of rest on this planet!
The solution is made up of two parts;
An app for crew to log hours in seconds, online, offline and on any device.
A Vessel Dashboard for Captains and Heads of Departments to monitor compliance, digitally sign off and export monthly time sheets.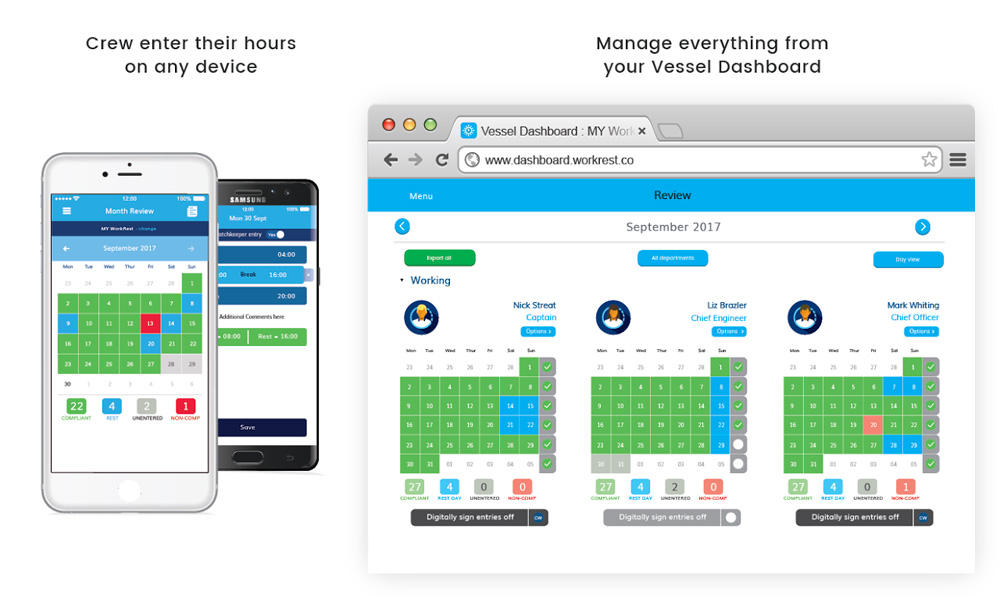 With over 16,000 real-world hours logged during a two-year testing period, workrest has been designed to be the easiest way for all crew to accurately log their hours of rest, whilst providing the most in depth analysis of compliance for captains and heads of departments.
Over 200 calculations are performed each second via workrest's specially designed algorithm to generate the most accurate demonstration of compliance to MLC, STCW and US OPA legislation.
The solution helps captains and crew to:
Simplify accurate logging.

Online and offline functionality, reminder notifications and cross device capability enable crew to log hours on a more regular basis which improves the accuracy of the data.

Stay up-to-date on compliance.

Compliance notifications instantly advise captains when non-compliant hours have been entered, including the exact timeframe for when it occurred.

Go paperless.

Allowing users to sign off their entries on their device, enables workrest to generate a fully paperless, IMO / ILO compliant timesheet that can be downloaded, emailed or stored in the cloud (timesheets are ready to print pdf's).
"I like it and so does my crew. Dig all the different profiles that you can pre-set. Makes it super efficient for the boys on deck doing early or lates."
Rudi van Velzen, Chief Mate, SY Seahawk
"Already it is saving a lot of time in chasing up crew to get their hours signed off."
Luke Schumacher, Chief Mate, MY Harmony III
Launching at the Barcelona Charter Yacht Show in 2017, workrest is now used by some of the most prestigious yachts in the industry with over 10,000 hours logged each day.
Workrest is available to download across all devices now from the app store, android store or online at workrest.co