Rotational Working in the Yachting Industry
Rotational working is slowly being adopted by the yachting industry. Although it brings with it huge benefits, it has not been accepted or welcomed by everyone.
It was captains and chief engineers that began to move the standard of crew rotation from merchant shipping to the yachting industry. And many now insist on it.
With a pattern of Deck/engineering officers coming into the yacht sector from the merchant navy, due to a bigger than ever demand for unlimited licenses, many of these seafarers come from an industry where like for like rotation is common.
Yachts over 3000gt/3000kw often require crew with unlimited licenses and so there has been a need to recruit ex-merchant professionals. In the merchant navy rotational positions are the norm and so the superyacht industry has had to adapt to match its packages to attract officers.
The idea of rotational working has not been welcomed by everyone, however, and has left many demanding and inflexible yacht owners without suitable qualified captains or engineers available for their vessels. Many owners may be happy with rotational engineers as a concept, but they may feel differently about the captain as they are usually seen as the owner's only or main point of contact, and as such there is often a unique relationship between the two.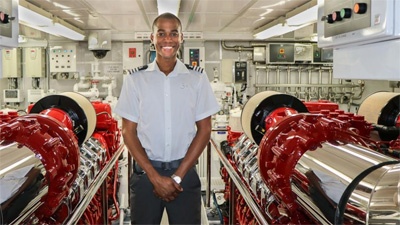 Why has there been this shift in attitude to rotational working?
As industry standards get higher and higher each year, crew without rotation are likely to suffer from fatigue, thus leading to poor performance. The crew dynamic suffers, standards may slip and crew either leave or give up and get let go. With back to back seasons, heavily chartered yachts travel far and wide and there really is no escape: no walk in the park, no popping to the shops, or going for a run or catching up with friends over a relaxing meal. Sometimes yacht crew just need to get away from it all and recharge their batteries.
Furthermore, a tired or unhappy engineer will not be doing an optimum job – and this can obviously be unsafe in a boating situation. There are so many technical duties to be carried out by a superyacht engineer for example, it is imperative that they are rested and focused in order to perform all of these tasks 100% correctly.
They need that balance and the time off to spend with family and friends, renew their certificates or further their studies, etc. This is all essential when running a high calibre yacht.
Benefits of rotational working:
Improvement in crew

performance

downtime for the crew is of utmost importance for the safe running of a yacht.
Improvement in

retention

of experienced and quality crew – it is much better to have an experienced, solid team onboard for years to come than to have to go through the recruitment process every season as the crew is burnt out.
Wealth of

knowledge

- it can be a bonus for the yacht owner if the team work well together as the rotation team can make sure that nothing is missed. Plus every individual will have his or her own specialties – for example refits, logistics, safety or accounting.

Prevent burn-out

as it provides time for crew to recharge their batteries and have a personal or family life
Allows a good

work/life balance

which is required when operating at such high levels of service
The change of an engineering team onboard with the right procedures in place can be

seamless

and go unnoticed even mid charter.
How to make rotational working work
Everyone involved must be on the same page for the structure of the rotational plan to work. Some of the topics that should be covered include how long each rotation is, the salary on and off rotation, whether the off-rotation captain can take outside work, the expectation of holiday rotations and whether the owner is happy with either captain or just one particular captain on board for their trips.
Once these kinds of decisions have been made, a clear rotational plan can be put in place and the search can begin for the second captain for the rotation. It is important to find a captain whose personality and skill set are close to and fit well with that of the senior captain.
Both sides need to compromise, perhaps with the owner paying slightly more than he would for one captain and the two captains each earning slightly less than they would if they were the sole captain. However, the owner benefits from longevity, a more reliable yacht and a happier and more motivated senior crew.
Sometimes, rotation may not be the right solution for the captain or the owner – and perhaps a middle ground needs to be established in such a situation. Or some yachts are just not busy enough to necessitate it. An owner might prefer to deal with just one captain or, indeed, the captain might be opposed to sharing authority with someone else.
However, the concept is certainly becoming more commonplace in yachting and as long as a rotational arrangement is managed properly, with excellent communication, continuity and professionalism, there is no reason why it cannot benefit both owner and crew.