First 24 Hours on a Yacht (Part 1)
First Time on a Yacht
The morning was fresh as I stepped out of the crew house with all my current life belongings crammed into my rucksack that weighed heavy on my back. I made my way to Antibes train station where I caught a train filled with commuters. I was heading for Genoa, a large, mainly industrial port in Italy, where a 54 meter yacht, that gets hired for over £300,000 per week had two weeks of work for me.
Sitting on the train, with my rucksack in the chair next to me, I watched the beautiful coastline of the Cote D'Azur pass by as the train hugged the coast of the south of France and into Italy; passing beautiful homes and small coves overlooking the electric blue Mediterranean Sea basking in bright sunlight. Looking at the view I feel more relaxed than of late, knowing that I have paid work for two weeks and I am gaining some much needed experience to build my CV to help me secure that, so far elusive permanent job on a yacht.
Getting off the train at Genoa station, I catch a taxi to the port. The taxi pulls up at the dock and before me lies a stretch of super yachts, glistening in the now afternoon sun.
I find the yacht and press the intercom system rigged at the end of the passerale (the passerale is the walk way onto the yacht). The buzzer rings and a polite girl answers, I savour what I know will be the last few moments of time on my own before I enter this yacht, filled with 16 full time crew.
I am given a friendly welcome, advised to remove my shoes and step on-board...my first stride into the world of the super wealthy. I am led on-board where the golden yacht teak has a pleasant warmth underfoot, and the glistening yachts paintwork and railings sparkle like something from a fairy tale, there is an air of cleanliness on board, like a house after its annual spring clean. I am lead along the back of the yacht, down the side, through a door, down some narrow steps and into the more humble living area of the crew mess. The crew are sat watching TV and I am introduced to them. I take in their names, believing I have stored these in my mind, only to realise that in shaking hands and thinking what to ask them next I have not remembered any of their names.
I am shown to my room, down a narrow corridor that is lit with bright lights and has numerous doors off it; I am led into a small room with three bunk beds. On top of my bed is a selection of uniform, two towels and bed sheets. I am shown my cupboard, which consists of a small hanging space with two shelves. I am given the top bunk; 20 years ago this was the bunk that I would have argued about having with my brother, now I look at the practical side, thinking how hard it will be to go to toilet at night without stepping on the person below! The room has a small ensuite, consisting of a shower, toilet and basin. I try the shower, expecting a trickle of water to dribble out, but am greeted with a powerful shower that splashes me and the floor around me. There are two small portholes in the room, one in the ensuite and one in the bedroom, they provide a small amount of natural light into the small rooms and look out onto the yacht next to us and the bluey-green industrial looking water below.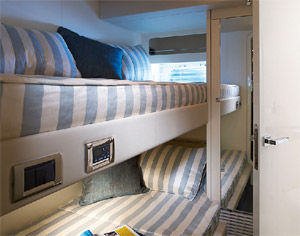 I unpack and then sit in the crew mess. I meet the crew who all seem lovely; they encourage me to help myself to the dinner which they have already eaten. The meal is delicious and sheer luxury after the three weeks living on pretty much pasta and sauce. I am shown around the crew areas, introduced to the crew toiletries cupboard (a haven of the latest lynx fragrance shower gels, top of the range Mach 3 Gillette razors and a host of other essentials to cater for any high maintenance grooming requirements)! I am told to help myself to whatever I choose; sheer luxury and I spend a moment pondering which shower gel fragrance to opt for this time.
I am also shown around the crew area, I am told to help myself to anything I want in the fridge. I am then shown to the crew snack cupboard, which resembles a mini candy and chocolate store crammed into one cupboard, my eyes widen and stomach leaps with excitement as the extensive selection of treats lay before me.
I am also introduced to the crew entertainment system on the television. Full Sky television is on-board, which includes British channels as well as a stored library of pretty much every film I ever knew existed, all available at the press of a button. I am strangely pleased to see UK television, I feel closer to home again.
Having sat in the crew mess for a few hours exchanging pleasantries, whilst trying to watch the film that is playing I decide to head to bed as this morning's early start and all the new experiences and senses weigh heavy on my eyes.
I clamber on to the top bunk, knocking my head in the process, a habit that will happen some four times more this week before I adjust to the restricted head room above the bed. I get into the clean sheets that I made up some four hours previously. Once in bed I note I am unable to sit up, due to the lack of head room. I lie there, flick on the reading light, set my alarm and get ready to spend my first night on-board a yacht.
The first night on-board is an experience in itself. Lying there trying to sleep I mull over the change in my life in a relatively short space of time. There is a part of me lying there excited at the future, but another part of me feeling wholly unsettled and unsure if this is the right thing to be doing in my late twenties; the thought of sharing my living space, my room and essentially my life with these new people makes me feel unsure and unsettled, am wholly aware now of how close the living quarters are on-board and how little time there will be to have space for yourself. As someone who loves company of others but also relishes his own space, I am concerned this will be a living condition that will be hard to settle into to.
I shut my eyes and notice the relatively subtle hum of the yachts air conditioning system and the crew mess TV in the background, accentuating every explosion Bruce Willis sets off during the Die Hard film, I gradually drift off to these noises.
I would like to say I awake to the sound of my alarm, but my sleep is disturbed by shutting doors in the crew area and as other crew members retire to the cabin. I am also woken each time I turn over, the bed is just wider than me, so turning over becomes more of an art than ever before and I learn to sleep in an almost pencil like formation, my days of "star fishing" in my bed are behind me now!

For more information read Work on a Super Yacht: The Beginners Guide by Ben Proctor