Engineers: are you ready for your next crossing?
Its that time of year again. Load up the provisioning, bunker the fuel and ready the engine room. Its all hands on deck for Atlantic crossing preparations.
For those who haven't experienced the journey across the pond, its one every crew member should encounter. For those who have experienced it, you would know full well the logistics involved to move a yacht 2500 miles. After completing 6 Atlantic crossings as the 3rd engineer onboard a 264ft yacht, I have experienced the rough seas, the breakdowns, the laughs, the cries and the life changing moments with my fellow crew.
So what makes a crossing easier for engineers? What makes a crossing safer and more enjoyable? Here is my advice to a great crossing:
Send divers down before you leave and don't take any chances with cleaning sea strainers and cross overs.
Change your main engine and all generator fuel filters the day before you leave, even if they were changed recently. Carry plenty of spares
Test your bilge alarms and fuel shut off valves. Make sure you have at least one spare bilge alarm in your inventory
Work your seawater valves. If there is a time when you must immediately close a SW valve, you need these things to be working.
Communicate with your team. Make sure your whole engineering team understands the plan for the crossing. The priority is to get the boat and crew across safely
Stay calm during an emergency. Crew are depending on you and your knowledge to make the right decision in handling an emergency. Be vigilant and always keep a watchful eye on all your engineering spaces, not just the engine room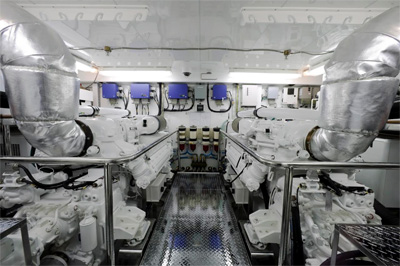 Be well organised and use our

planned maintenance system

, Seahub. We built Seahub from our experiences including crossings, yard periods and daily operations.
Have fun! Some of best memories I have were during crossings. It brings crew closer and shows the hard working nature of each individual onboard and how they can come together as one team to make something amazing happen.
Preparation and communication is everything. Understand your equipment and know how to use it, use it safely and wisely. Out on the pond you are the emergency team!
For more information on our stories visit www.seahub.com.au
Get in touch and get onboard today.